stop legacy cottages now!
Legacy filed an appeal with the LPAT (formerly the OMB) challenging the failure of the District to approve a condo development on the previous Lakeside Lodge property (43 residences with up to 6 bedrooms each, and 9 docks with capacity from 38 to 53 powerboats). The hearing in late February was very unsatisfactory: it lasted only four hours, third-party witnesses were not allowed to testify, and there was no provision for cross-examination. We received the LPAT report in March confirming that they won their appeal.
We were obviously very disappointed, but it's not over yet. We have time to challenge the verdict, as the appeal period has been extended indefinitely because of the corona outbreak. We will need your help to stop this development from setting a precedent for all of the Muskoka lakes.
Stay tuned—there's more to come.
How do waterfront homes at 10x residential density benefit Muskoka?
The developer proposes to construct 43 buildings on only 470' of shoreline. Friends of Muskoka is opposing these units being used as residential cottages when zoning for one residential cottage requires a minimum of 200' of shoreline and other restrictions that protect our lakes from over-development. Allowing Legacy to distort commercial resort zoning for residential use will threaten the environment and destroy the natural character of Muskoka.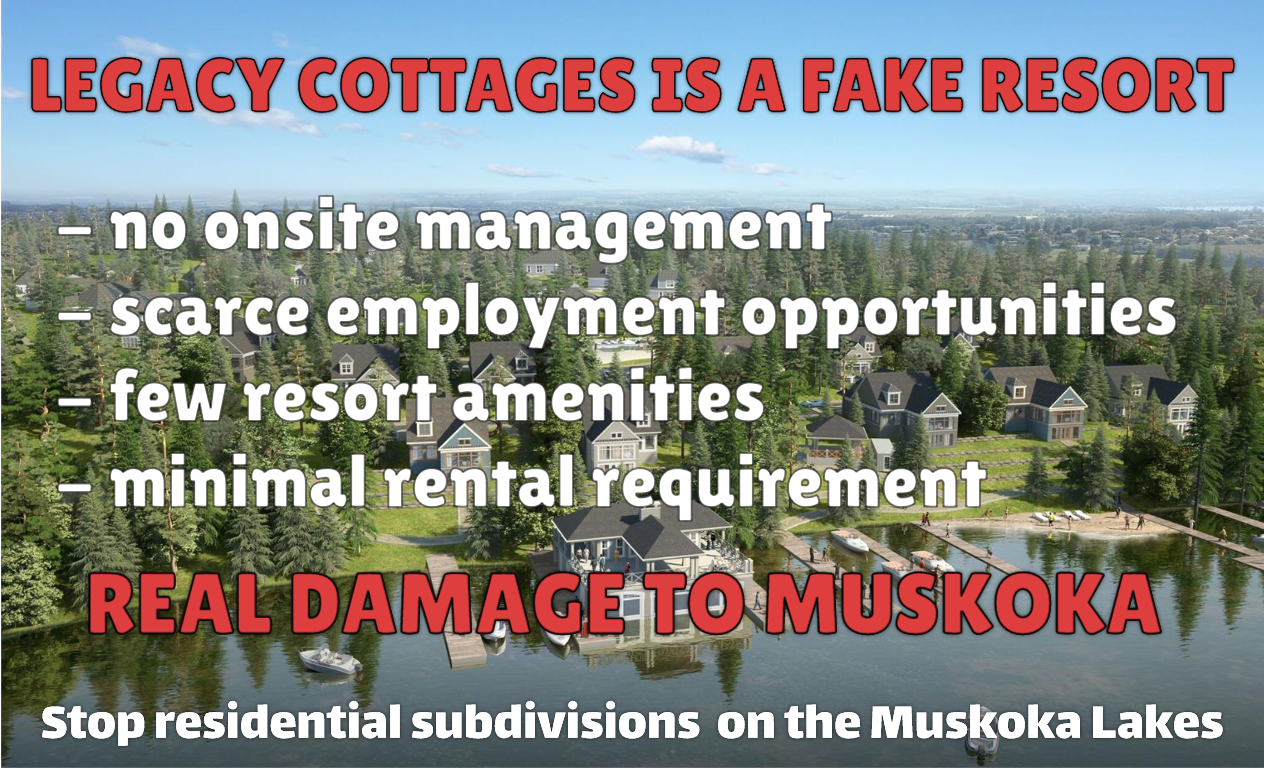 drone video of legacy site
partners
Friends of Muskoka are working with many environmental, cottage and lake associations across Muskoka. We want to make special mention of our partners at the Muskoka Lakes Association and Safe Quiet Lakes for their tireless work to protect Muskoka and their advocacy for an environment first development philosophy across the district.