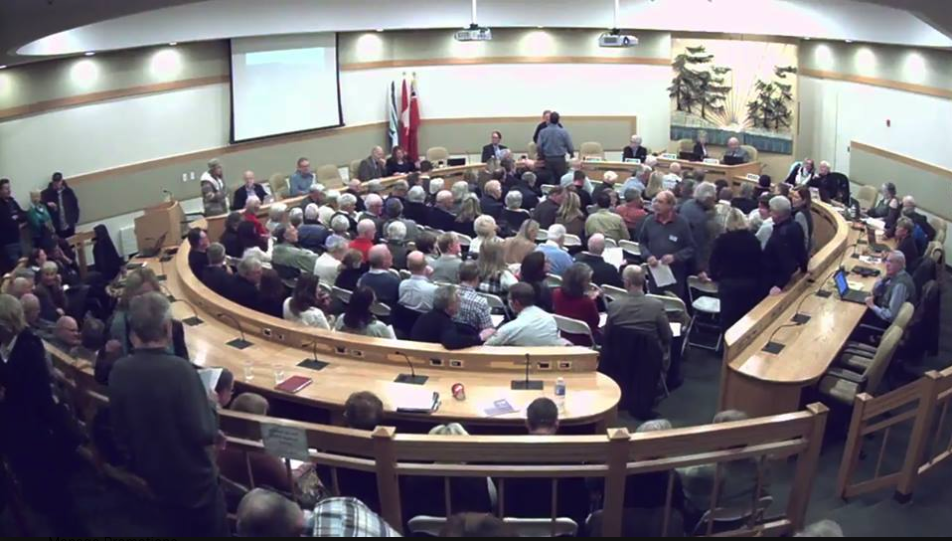 Yesterday's Public Meeting in Bracebridge was a great success. About 300 people attended, filling the council chamber, the lobby and a room in the basement where video monitors were set up. This was the highest public attendance at a meeting in 30 years! 53 people spoke – with only 4 supporting the developers' position. Representatives from many lake associations, local residents, businesses and cottagers were unanimously opposed to provisions that would allow for intensive waterfront residential development. This is not a cottager vs local issue, this is an issue of significant community concern.
Concerns focused on environmental impact of development, and the impact on the experience and character of Muskoka. District planners agreed that the Official Plan needs to strike a better balance between environmental, economic and "character" concerns and find a way to better incorporate climate change considerations into its decision-making.
For those that could not attend, a stream of the webcast will be available for the next 7 days.
We now have an opportunity to work with planners and politicians, and, with the experts we have hired, influence the specific clauses in the next (likely final) draft OP. We will work diligently to do this over the next couple of months.
In parallel we are working to influence the outcome of applications for condo agreements that are currently before the Township of Muskoka Lakes.
We also have a battle ahead of us with the Minett development, which, to an extent falls outside the District OP, as it was approved for 4000 units back in 2008. Their environmental, traffic, boating, etc studies are old, and standards have tightened – this represents an opportunity for us.
All cottagers are allowed to individually register to receive the Notice of Decision for the Muskoka Official Plan Review by writing the Clerk clerk@muskoka.on.ca.
Stay involved – we still have lots of work ahead of us. Sign up to receive updates and stay tuned to Save Muskoka for upcoming events and news on our progress.
Thank you so much for supporting our effort. We couldn't do this alone!
Friends of Muskoka