the problem in muskoka
We are asking for your help today to fend off a drastic threat to the scenic waterfront communities of Muskoka.
A new District Official Plan will, if enacted, generate high-density redevelopment of resort properties throughout Muskoka.
Sign up for the Friends of Muskoka Waves newsletter for updates on the next chance for input on the new Official Plan. Official plans set the rules of land use and development for a municipality. This new plan would allow any of Muskoka's 100-plus waterfront commercial properties to be redeveloped into high-density residential subdivisions – thanks to a developer-friendly redefinition of what constitutes a "Resort". The District of Muskoka's planners, in a misguided attempt to prop up the ailing resort industry, are proposing that 50% of all new units may be sold and operated as fully residential units, without the requirement to rent. The other 50% can be sold with minimal (and unenforceable) rental obligations. It is, simply, residential densification under the guise of being a "Resort". Ironically the real effect maybe doing away with resorts entirely as it will be much more lucrative for a developer to fully build out and sell homes on these properties than it will be to run a resort.
If passed, this new District Plan will change the character of Muskoka and our beautiful shorelines forever.
The Muskoka Lakes Association Board and Friends of Muskoka are unanimously opposed to the District's proposals, and have mounted a strong and collaborative opposition effort. Several other cottage associations are working with us. This is truly a defining moment for Muskoka. It could be an expensive undertaking. But if we don't act now, in 10 years our children will ask us why we didn't.
Friends of Muskoka have been working tirelessly over the past year to educate politicians and planners as to what is actually happening and we have effectively paused activity at 5 resorts, including the entire Resort Village of Minett. Developers could be permitted to build up to 3600 residences just in Minett, more than all the cottages on Lake Rosseau and Lake Joseph COMBINED, and that could create a community larger than Bracebridge. Other developments already underway include: Legacy Cottages on Lake Rosseau where the developer has clear cut to build 43 cottages on 470' of shoreline; Villas of Muskoka on Lake Muskoka where 23 units have been built along 800' of shoreline; Touchstone Resort on Lake Muskoka that has applied to build an additional 100 residential condominium units; and JW Marriott (Red Leaves) on Lake Rosseau that has applied to build an additional 42 residences along the shoreline. With over 100 commercially zoned properties in the District, (including resorts, camps and marinas), there is huge risk of over-loading the lakes from the stand point of safety, our continued enjoyment, and water quality.
What can you do?
STAY TUNED FOR UPDATES ON THE NEXT CHANCE FOR INPUT ON THE MUSKOKA OFFICIAL PLAN – SEE THE EVENTS PAGE HERE.
 Let's stop the Muskoka sell-out!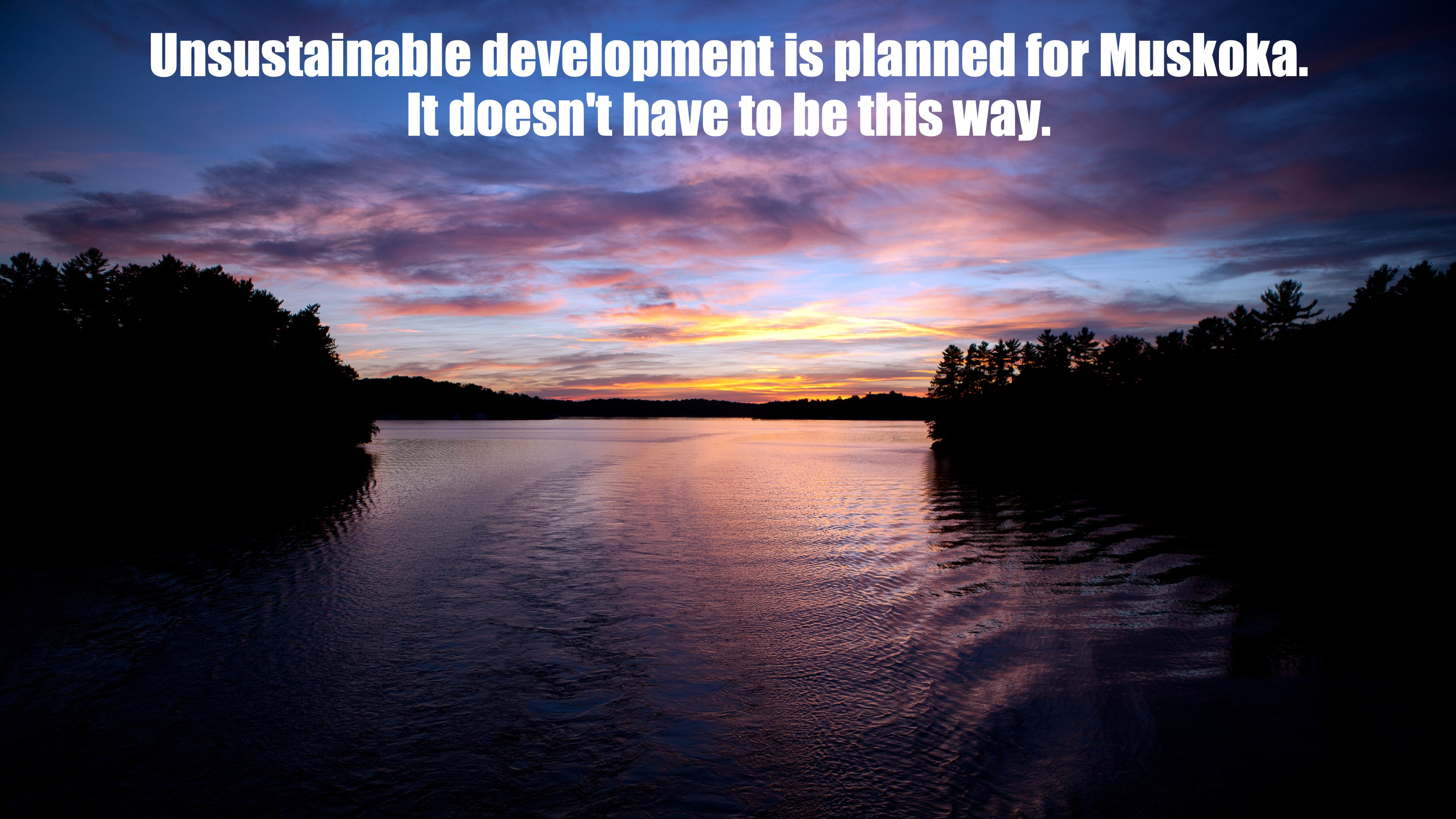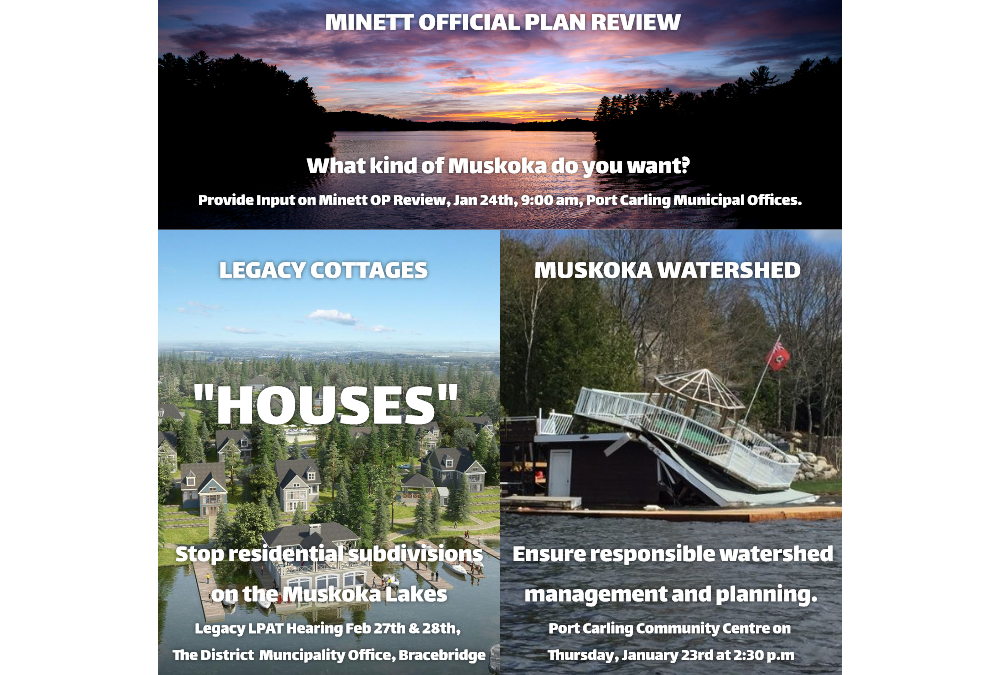 This special edition of Waves is focussed on three critical issues that will impact the health and character of Muskoka for a generation. Check out our calendar or the 'Events' section of our website for the most current info.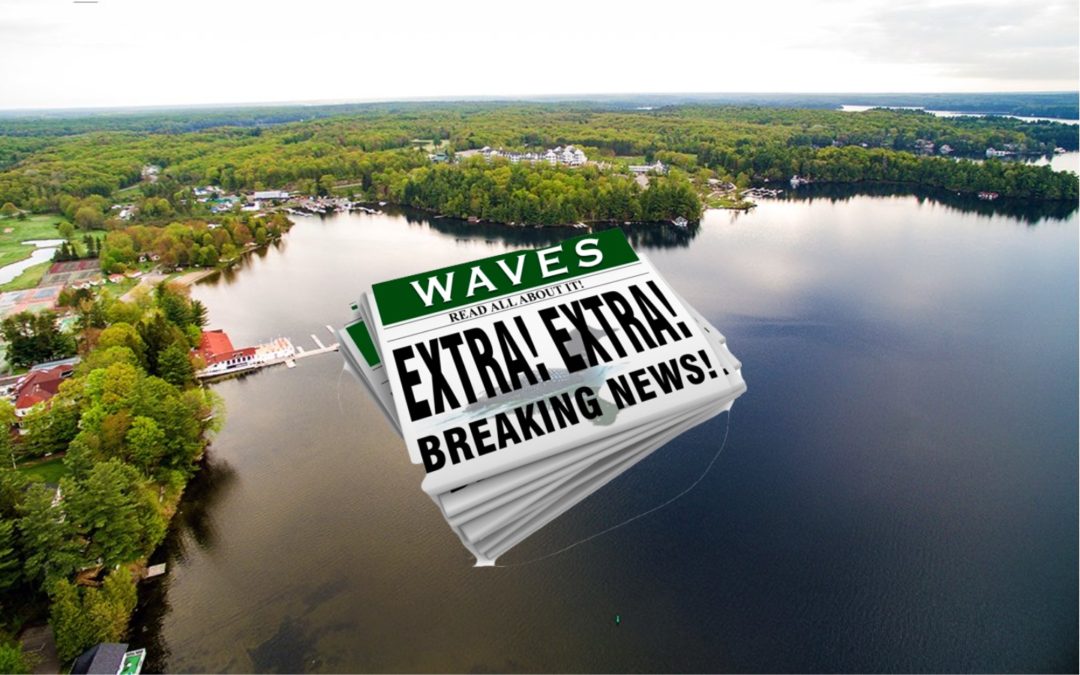 The Minett reviewing committee has released their preliminary report with 28 recommendations for future development in Minett, Muskoka. The committee's recommendations are a very important milestone in the development of guidelines for protecting the environment in...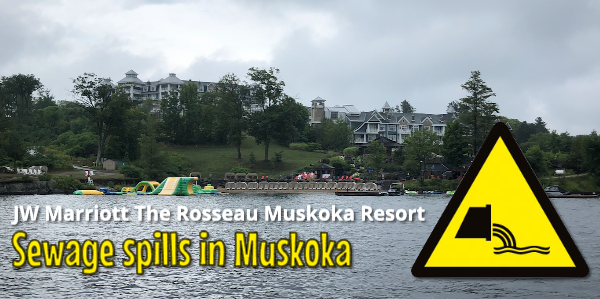 A Work Order based on issues with the sewage system at the JW Marriott The Rosseau Resort and Spa (JW Marriott) has been issued by the Ministry of Environment, Conservation and Parks (MOECP) against the owners and operator of JW Marriott.   Details of the sewage...