Feb 15, 2018 – TML COW Marriott Site Plan (tentative date)
Municipal Office (Muskoka Lakes), 1 Bailey St., Port Carling Muskoka Lakes ON, P0B 1J0
As if the plan to build 1400 cottages (of the 3300 possible) in the Minett Village combined with the 43 cottages at Legacy were not enough, the Marriott Red Leaves has applied to build 40 more cottages in this little bay on Lake Rosseau in Minett, Muskoka. Like Villas, Mist, Legacy and the Minett Village – the Marriott is zoned resort commercial and they appear to be counting on the same bait and switch the other resorts are hoping to use that will enable them to sell these properties as residential units. There's a rush to get this done now before the public catches on and before the District and Muskoka Official Plans formally put an end to this unsustainable and unlawful development in Muskoka.
Feb 21, 2018 – OMB for Skeleton Lake.
Municipal Office (Muskoka Lakes), 1 Bailey St., Port Carling Muskoka Lakes ON, P0B 1J0
Help establish the issues, parties, and participants prior to the OMB hearing expected to take place summer, 2018.
Apr 23 / 24, 2018 – OMB for the Villas of Lake Muskoka.
Municipal Office (Muskoka Lakes), 1 Bailey St., Port Carling Muskoka Lakes ON, P0B 1J0
This application has been taken to the OMB by the developer who is arguing that the District does not have the right to control use via a condominium agreement (eg. should not dictate how many weeks an owner of a condo unit can stay in his unit). Friends of Muskoka has applied for party status. The MLA's legal counsel submitted an opinion that the units must be in a rental pool year-round since this is a commercial resort property. The Township obtained a legal opinion which they claim disagrees with this. At the TML Committee of the Whole on January 16, we argued that we should be given their opinion — we await their decision.
Friends of Muskoka Calendar of Important Events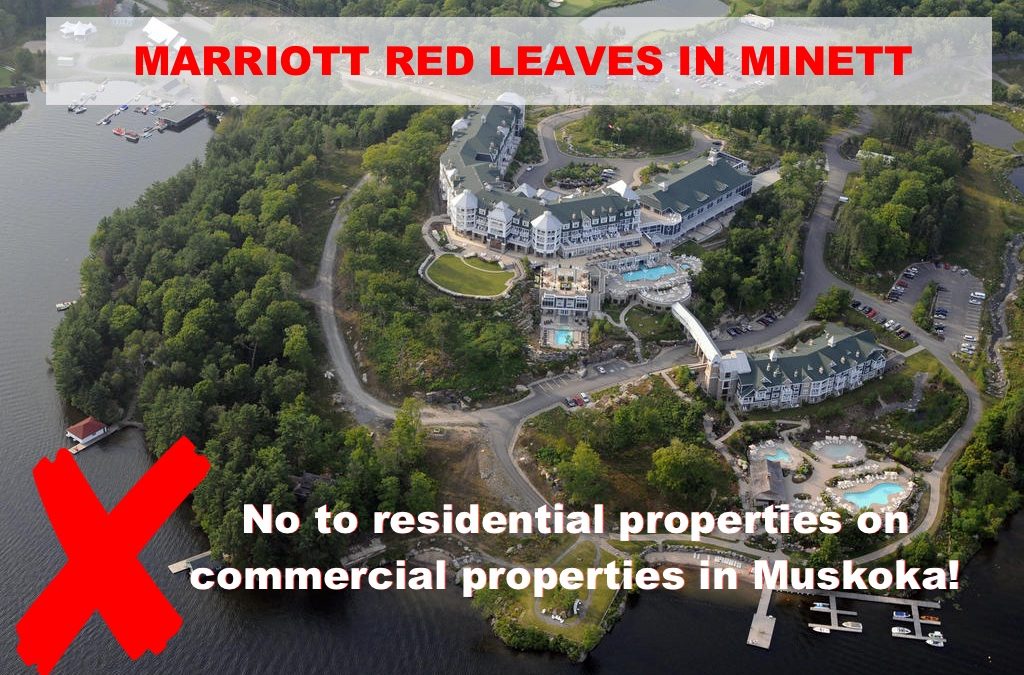 The Township of Muskoka Committee of the Whole reached a unanimous decision on Feb 15th to defer the decision on the Site Plan application for Marriott's expansion until the issues we identified (including septic and wastewater treatment, and fire department access)...